This is my second edition of
What I blank Wednesday
. This week, I decided on....*
drumrolll*
What I Worked Out Wednesday
So here is my past week of workouts in review:
Wednesday
- I missed bleacher club! My dad came over to help me hang up closet poles and, like all projects with my dad, it took FOR-EV-ER. So no workout on the books for last Wednesday. Excuses, Excuses! :(
Thursday
- CrossFit. It was
August's Painstorm
. Brutal. There was a 40 minute cutoff and I finished 3 rounds plus another round of rowing, lunges, and running. This is the most I've ever rowed in one workout. (over 1 mile!)
Friday
- Bleacher Club bonus day. 30 in 30 (30 times up the bleachers in 30 minutes). I only made it up the bleachers 25 times in 30 minutes. The heat at 4:30 was merciless, even in the shade.
Saturday -
Does moving and unpacking count? No? What about dancing in heels at a wedding? Well, then no workout on Saturday.
Sunday
- Late evening run with Seth. Pretty much a mile and a half sprint for me, since his daddy long legs out stride mine at about a 2:1 ratio.
Monday
- Bleacher Club. Tae-bo kick squats, leg raises, flat rows, prison get up squats, single leg lunges, half burpee arm raises, jump lunges, single leg lunges, scorpion push ups, dead man burpess. Repeat x 2 1/2.
If you have no idea what half of these exercise are, it is because I made up names for these insane moves Mike invented. Sometimes I think he YouTube's crazy exercises to make us do. At least it never gets boring!
Tuesday
- CrossFit. The warm up was our baseline evaluation. (Row 500 m, 40 squats, 30 situps, 20 pushups, 10 pull ups). The first time I did the evaluation almost a year ago, I finished in 6:15 doing pushups on my knees and using green + blue bands for pullups. Yesterday, I finished in 5:49 doing "real" pushups and using only the green pullup band. Yay for progress!
The workout was a
20 min AMRAP
. I used the women's prescribed 55 pounds for the SDLHP and I modified L-pullups to pull ups with bands. Using the prescribed weight always makes me feel accomplished, even if I had to use 2 bands for my pullups. I finished 5 rounds plus 6 more SDLHP.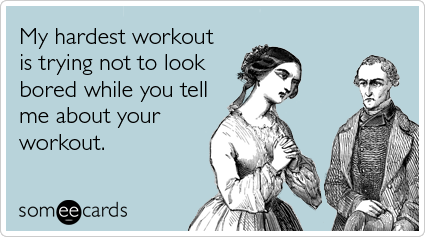 I hope this isn't how y'all feel on What I Worked Out Wednesday!
Yesterday, I finally made it to the
Cash & Carry Farmers Market
. It was nice. A band was playing as I browsed a variety of items, including canned veggies, baked goods, homemade salsa, homemade soaps, grass fed beef, fresh veggies, and probiotic organic sodas.
I was really in the market for some tomatoes and fresh fruit, but there was none. The vegetables looked great; they had peppers, okra, eggplant, and purple hull peas, all things I currently have in my fridge from my grandma's garden. The only purchase I made was gluten free, orgainc, home baked doggie treats for my Lola. Hope she likes them!